印顺大和尚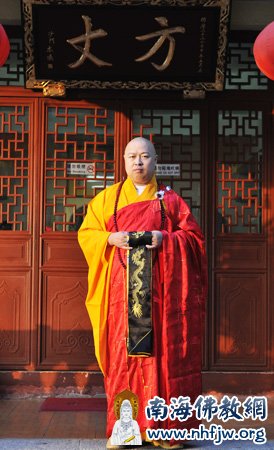 印顺大和尚
  全国政协委员,中国佛教协会副会长、海南省佛教协会会长、深圳弘法寺方丈、海南三亚南山寺方丈、尼泊尔中华寺方丈。
  Venerable Master Yin Shun
  Committee Member of the Chinese People's Political Consultative Conference (CPPCC), Vice Chairman of the Buddhist Association of China, Chairman of the Buddhist Association of Hainan Province, Abbot of Shenzhen Hongfa Temple, Sanya Nanshan Temple and Nepal Zhonghua Temple.
  印顺大和尚,佛学博士,佛门泰斗本焕长老衣钵真传,临济宗第四十五代传人。
  Venerable Master Yin Shun, PhD in Buddhist Studies, is the Dharma successor of Venerable Master Ben Huan, one of the most influential and respectable elder monk in China, and became the 45th successor of Linji School of Chinese Buddhism.
  印顺大和尚现任全国政协委员、中国佛教协会副会长、海南省佛教协会会长、湖北省佛教协会名誉会长、深圳市佛教协会会长,担任深圳弘法寺、海南三亚南山寺、尼泊尔中华寺等多家寺院方丈,本焕学院院长、南海佛学院院长, 柬中友协最高顾问,柬埔寨最高国家勋章获得者。由于其修行、弘法成就及对中外佛教文化交流所作出的杰出贡献,被泰国国王御赐"华僧大尊长"的荣誉称号。
  Master Yin Shun now serves the following positions. Committee Member of Chinese People's Political Consultative Council (CPPCC), Vice Chairman of the Buddhist Association of China, Chairman of the Buddhist Association of Hainan Province, Honorary Chairman of Buddhist Association of Hubei Province, Chairman of the Buddhist Association of Shenzhen, Abbot of numerous temples including Shenzhen Hongfa Temple, Hainan Nanshan Temple, Nepal Zhonghua Temple, Dean of Benhuan Buddhism Academy, Dean of Nanhai Buddhism Academy. He is also the Supreme Consultant of Cambodian and Chinese Friendship Association and the receiver of Grand-Order-of-National-Merit of Cambodia. Due to his extraordinary contribution to Buddhism and culture exchange between China and Thailand, Master Yin Shun has been entitled the "Chinese Master leader of Excellency" by King of Thailand.
  印顺大和尚在寺院管理中坚持佛教传统,同时注重学习现代管理方式。他致力于构建 "人文佛教"之理念。在他的管理下,弘法寺不断发展壮大,成为中国佛教模范寺院,连接两岸四地佛教文化友谊的桥梁,最具活力的都市丛林。
  As abbot of many temples, Master Yin Shun not only adheres to the tradition of Buddhism, but also tries to introduce modern management. He devotes himself to the construction of "the Humanistic Buddhism". Under his philosophy, Hongfa Temple is gradually growing into one of the most vibrant urban temple and a model for other Chinese temples. It is a bridge of Buddhist Cultural exchange between Mainland China, Hong Kong, Macau, Taiwan and other countries and regions in the world.
  印顺大和尚重视佛教教育与传播,为培育僧才,续佛慧命,他与北京大学及泰国朱拉隆功大学战略合作,先后创办了本焕学院和南海佛学院。
  Master Yin Shun attaches great importance to Buddhist education and transmission. He signed cooperation agreements with Peking University and Chulalongkorn University, and established Benhuan Buddhism Academy and Nanhai Buddhism Academy to promote education among Chinese monks and Buddhist followers.
  印顺大和尚经常通过演讲与著书等方式和众生结缘。他先后编辑著述出版了《弘法文库》、《中国汉传佛教丛林仪规》、《构建"人文佛教"的平台》、《虚云法师与鸡足山佛教》、《金刚般若波罗蜜经—现代文浅释》等书籍,受邀于凤凰卫视等众多讲坛,做了数十场公共演讲,在社会上产生了广泛而深入的影响。
  Master Yin Shun is also a writer and an elocutionist. He edited and wrote several books, such as "Hongfa Series", "Chinese Buddhism Ritual", "Platform Construction of Humanistic Buddhism", "Master Xu Yun and Jizu Mountain Buddhism", "Explanation of The Diamond Prajna-Paramita Sutra", etc. He has been invited to attend several forums including the Phoenix TV station and made dozens of public speeches which have extensive and deep influence on the society.
  印顺大和尚在世界多国展开社会公益慈善、文化教育等多领域合作。勇于开拓、不断创新,成效卓著。
  Master Yin Shun put his innovation and exploration spirit in actively promoting social welfare and charity around the globe.
  印顺大和尚充分发扬中国佛教开展国际交流的优良传统、善巧运用佛教外交这一特殊资源,持续、广泛、深入地开展了与周边国家的佛教交流,取得了非常殊胜独特的效果,与美国、英国、澳大利亚、日本、韩国、泰国、柬埔寨、老挝、蒙古等多国宗教领袖展开对话交流,为加强国与国之间文化深层次交流,促进民心相通,共建人类命运共同体做出了积极的贡献。受到多国政府及宗教界的高度赞扬。
  Master Yin Shun build upon the Chinese Buddhism tradition of international exchange and devote himself to religious communication with other countries. His continuous, extensive and profound dialogue with religious leaders from various nations including U.S, U.K, Australia, Japan, Korea, Cambodia, Laos, Mongolia has fruitful result, contributing greatly to in-depth culture exchange and the establishment of a shared human destiny. His devotion to Buddhism exchange has been highly praised by numerous national governments and the society.